The Prenatal Person During Birth  
We are not human beings having a spiritual experience, but spiritual beings having a human experience.
                                                                                                                                                                          ~Teilhard de Chardin
The 2018 Courses review the Preconception Stages, and focus intently on the Prenatal Stages. Participants experience unique rituals and inner journeys that uncover and heal trauma, and access spirituality. Prenatal Stages include Spermulation, Ovulation, Conception, Implantation, Discovery, Spiritual Embodiment, Ego Emergence, and Birth.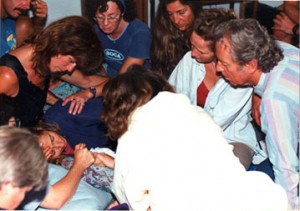 The goal of the two courses is to be born free of trauma, to discover our true selves, and to find our spiritual home. Dr. William Emerson is a world renowned pioneer in prenatal and birth psychology, and offers workshops for personal growth and professional training. In each course, Dr. Emerson uses time-tested methods that generate personal discovery, relational intimacy, psychological healing, and spiritual transformation.
---
Single Course Tuition (room and board not included) 900 CHF, 900 US Dollars, or 840 Euro. Cash okay, OR bank transfer (arrange via email), OR via PayPal, OR to pay by credit card contact Zahira Rabinowitz at Emerson Seminars: 707 763 7024.
For more information contact Dr. Emerson at +1 707 364 1165 or email at w.emerson@comcast.net or wmemerson4940@gmail.com .
All payments fully refunded if cancellation is 6 weeks before, 50% thereafter. 
To register for a room and meals contact: Sabine Sieber at Alter Steinshof Sternenberg 052 386 13 01, alter-steinshof@bluewin.ch
Meals & lodging: 550 CHF (double room), 625 CHF (single room)