To listen to the interview, click

here
Shrink Wrap Radio
#208 – Pre- and Perinatal Psychology with William Emerson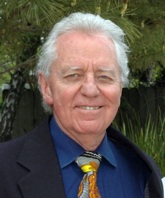 Transcript (From Shrink Rap Radio website)
William R. Emerson, Ph.D., is a renowned workshop leader, writer, lecturer, and pioneer in the field of pre and perinatal psychology. He is among the first in the world to develop prenatal and perinatal treatment methods for infants and children, is an expert in treatment methods for adults, and is recognized world-wide for his contributions. He is also co-president of APPPAH, the Association for Prenatal and Perinatal Psychology and Health, and has been on the Board of Directors for twenty years. He is the author of six books, five self-published, the co-author of Remembering Our Home , and the author of 15 published chapters and journal articles in the field of pre and perinatal psychology.

He is also the writer and producer of four video programs. He holds graduate degrees from Vanderbilt and San Jose State Universities, graduating with honors. He has held university appointments as Honorary Faculty, Director of Clinical Training, International Lecturer, and Assistant Professor of Psychology. As an acknowledgment of his contributions to psychology, he received an honorary fellowship from the National Institute of Mental Health. Dr. Emerson practiced psychotherapy for 25 years, specializing in psychotherapy and regression therapy for infants, children, and adults, and lectured domestically and internationally on these topics. Dr. Emerson is retired from the practice of psychotherapy and is currently writing a book on spirit and soul wounding, finishing a book entitled: The Dark Side of Childbirth and Its Effects on our Children (Stonebrook Press, June 09), and conducting open workshops and training programs in the U.S., Canada, Mexico, and Europe.
Also, as I mentioned in the interview, a good companion piece is the interview I did with Dr. Tony Madrid on Shrink Rap Radio #119 – Using Hypnosis and EMDR to Repair Broken Maternal/Infant Bonds.
A psychology podcast by David Van Nuys, Ph.D.